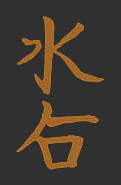 Suiseki Art
by Karel Serak and Tatjana Anatoljevna Serak
Tatjana Anatoljevna Šeráková was born in 1963 in Kazakhstan. She graduated technical school. She lived many years in Kazakhstan and in Russia thereout some years nearby Lake Bajkal.
" I was always very sensitive to the beauty and greatness of this country. I moved to the Czech Republic in 1995 with my three sons. Nowadays, I work as a leader of the project "adoption in the distance" for charitable institution in České Budějovice. I also do my private business with my husband in our company T-Clean.
I met fine art SUISEKI via Karel in 2006 and i fell love with it for the first moment. I became a supporter and a help-mate of this art promotion in the Czech Republic. In 2007 I participated at some SUISEKI exhibitions and in autumn 2007 I cooperated on project " The days of Japanese culture in South Bohemia ". Now I prepare a new collection of Suiseki with Karel that will be shown on international and Czech exhibitions. I´m a member of the Czech Suiseki association.
Karel Šerák was born in Písek in 1955, he is married and has got three sons. He graduated at forrest school. He works now as a manager of the Civic demokratic party in České Budějovice. He does business together with his wife Tatjana Anatoljevna in their company T-Clean.
Kontakt:
Česká republika
Neplachov 44, Dolní Bukovsko, PSČ 373 65
tel: +420 605 231 655, +420 724 119 107
e-mail: karel@serak-suiseki.com